15 March 2021
Seek Social Offer Social Media Service UK Businesses Can Trust!
It's hard to believe but the babies that were born at the start of the Social Media age are today in their mid-to-late teens, sitting GCSE's and getting provisional driving licences. Social media is mature technology now, and the buying public have grown accustomed to brands of all sizes having a social media presence.
The downside to this is that even if you're an SME, or a sole trader – if you're not making use of social media then you're lagging behind your competition. Fret not however, as Seek Social – a provider of comprehensive social media service UK and worldwide – are here to show you how harnessing the power of social media as a marketing tool can benefit your business in five specific ways – take a look!
Benefit 1: Promote Business Growth
This is possibly the biggest benefit that Social Media can have for your business and that's why Seek Social – ourselves a leading provider of Social Media service UK and worldwide – have chosen to lead off with it. There are two principal ways in which Social media can help your business grow – by increasing general awareness of your brand, and by making it easier to network and find advertising or other strategic partners – lets look at these in more depth…
1a: Social Media Helps Increase Brand Awareness
Social media is a great way to get more eyes on your business. On Social media people can't help but find and join likeminded people (think Facebook groups, posting using certain Twitter hashtags etc.). If a group or hashtag is relevant to what you do or has an interest in it, then for you as a business it's a ready made source of people who are more likely to want to hear what you have to say or interact with you. Just imagine what that could do for you in the hands of a leading social media service UK provider like us!
Of course, there is also the more scattergun possibility of people just happening across your content as they scroll through their feed… You can't rely on this to help you find success but as a leading provider of Social Media service UK businesses trust, we can tell you that every little helps. Whether a user clicks, engages, buys from you or not – if they log off of Facebook simply having learned that you exist, then social media has done something beneficial for your business.
1b: Social Media Helps With Networking & Partnerships
Online marketing was on the increase even before 2020 – the Coronavirus pandemic has only accelerated that growth as people are forced to turn to the online world for everything from shopping to entertainment. The general public put more stock in the opinions of online 'influencers' today than they did two years ago – and Seek Social, as a leading provider of Social Media service UK and worldwide are here to tell you this truth…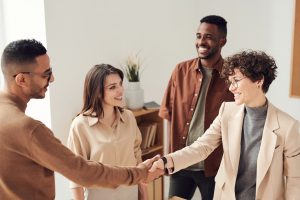 Video content creators like Twitch streamers and big Youtube channels – a lot of the time they're looking for advertising partners, and you can bet that they all have social media channels you can reach them through, even if you don't watch their content or frequent their platforms of choice.
So, if you spot someone whose content offers a good deal of synergy with your product, or whose audience overlaps with yours, reaching out to them could be beneficial to your business. In such situations, a message or quick conversation over social media could be a great way to break the ice and make initial contact.
Benefit 2: An Outlet For Your Values, Knowledge, and People
In addition to helping your business grow, social media platforms can also help you showcase your brand, the great people on your team, in fact anything you want to get on your soap box and celebrate about your business. That's something that Seek Social were doing long before we became a leading provider of social media service UK and worldwide, and now we're here to show you how to do the same!
2a: Promote The People & Values Behind Your Business
Every business sees the world slightly differently and no two workforces are exactly the same, so your people and your values are two assets that you can leverage to set your business apart from the competition straight away, even in a crowded marketplace.
So, whether it's a fundamental core belief that lies at the heart of your business' ethos that you want to share with the wider world, or Sharon from accounts and her awesome tea-making skills – this leading social media service UK provider knows that social media is the place to shout about it.
2b: Presenting Yourself as an Authority or 'Thought Leader'
Social media is also the place to increase your business' standing within your niche. As Seek Social – again, a leading provider of social media service UK and worldwide – can tell you, a few insightful replies here and there, or posts offering well thought-out opinion on the issues your industry faces really can get people's attention. Content like this shows that you know what you're talking about, and the more you can do that, the more people will listen to you, believe in what you say, and trust you – and that can only be good for your brand!
Benefit 3: Public Relations
As this leading social media Service UK provider know well, the various social media platforms out there aren't just useful for getting word out about your business and letting people know you exist – social media can also be used to keep your business' good reputation safe too – here's how:
3a: Traditional Customer Service
In recent years the team behind the best social media service UK businesses have at their disposal have noticed that more and more people are choosing to vent their consumer frustrations online. We've done it, and we're sure you have too – but just like customers can now @ you to make you aware of an issue, you can use social media to respond.
In the opinion of this leading social media service UK provider, the principles of responding successfully really are the same as traditional customer service. Let them know they've been heard and invite them to talk in private (via DM, a phone call, store visit for example) to find a solution. The benefits of this are twofold – knowing they've been heard is more likely to stop a disgruntled customer telling all of their friends and followers how bad you are, and it lets other customers see that when an issue does occur, you're pro-active about finding a solution.
3b: Reputation & Crisis Management
Just like social media can be used to provide customer service, it can be used to manage crises, and thereby guard the good reputation of your business. Lets say for example an order is delayed from one of your suppliers, causing the shipping of customers' orders to be delayed as a result.
You could use social media to forewarn those customers that – unfortunately – their order will be late, while also reassuring them that it's not an issue at your end. Take it from a leading social media service UK provider – as long as you don't play the blame game and throw your supplier under the bus in the process, again this shows you as being open and honest with your customers. It also lets the customer come to terms with the delay and be prepared rather than frustrated when their package doesn't show up on time, and in prime position to vent on social media about it.
Benefit 4: Increased Website Traffic, Leads & Sales
Because we provide top-quality social media service UK and worldwide, we've seen many sets of results from our clients based in all four corners of the world, so we can state with certainty that when used correctly, social media can be a very powerful marketing tool. It's a great way to drive traffic to your website, and as any digital marketing business out there should tell you – increased web traffic usually means increased leads and sales too.
And one more time, the success we've seen and delivered for our clients shows that the methods employed by Seek Social work. In fact, that's one of the things that has helped make us a leading social media service UK provider – but success with social media isn't a given, and it's not as simple as 'more posts equals more interest'. It takes expertise and knowhow to get results on par with those of the Seek Social team, and the best way to get those results is to turn things over to a leading social media service UK provider such as ourselves.
Benefit 5: Advertising + Ad Retargeting
It's not just posts that can be used for marketing purposes on social media – these days the various platforms out there also have dedicated advertising space that your business can take advantage of, and as a leading provider of social media service UK and worldwide, we know only too well how effective it can be!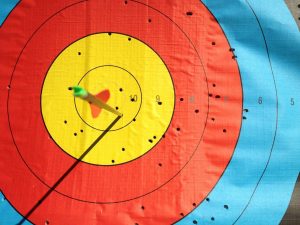 These ads can specifically target certain demographics that you want to see your marketing material, they can target people that have visited your site, clicked a competitor's ad, almost anyone that you can think of that you'd want to contact can be reached.
That's just half the battle though. As we've seen with other social media content, how you present your message is every bit as important as what that message is, and for best results we'd recommend teaming up with a company that can offer proven social media service UK or worldwide (depending on your location and your business goals).
Who should you call for comprehensive social media service UK businesses trust? Seek Social!
As we've mentioned in the paragraphs above, we offer that proven track record of top-drawer results in all of the different aspects and facets of social media marketing that you should be looking for as a client. Our methods are effective, our staff are knowledgeable, and our prices are designed to be accessible for companies of all shapes and sizes.
We specialise in helping sole traders and small businesses find their voice and carve out their space online, but we wouldn't be a leading provider of social media services UK and worldwide if we hadn't helped a few of the big boys out as well – and indeed we can also say we've done that too.
If you like the cut of our gib and you'd like to know more about the expert services that we can provide, if you'd like to talk about a specific project, or if you just want to know more about social media marketing or the wider world of digital marketing, why not get in touch with us today – you'll find all the details you need to do just that on our contact us page!
---