Leading Digital Marketing Agency Nottingham
Businesses traverse a journey on digital marketing at some point, but not every experience is created equal. With Seek Social, you can your pathway towards brand visibility and credibility is beyond ordinary.
Our digital marketing agency Nottingham will be the key to your success— you can count on our experts to take care of you throughout the journey.
Results-oriented Digital Marketing Company in Nottingham
Seek Social makes robust digital marketing plans that satisfy the needs of any brand. Regardless of the size or niche, our team delivers custom-tailored solutions that promote brand recognition and authority.
What you get from our agency are proven results that meet all the requirements on your goals list. We use laser focus when it comes to digital marketing. As our client, you are a VIP.
Why choose Seek Social for Digital Marketing?
With Seek Social, we have our eyes on strategies and positive outcomes that last. We want your brand to relish longevity in the Nottingham market, helping your brand reach the top of search page results and client recommendations. We will enable your investment to flourish by ensuring that every campaign is worth what you pay.
Creativity without limits
Seek Social as a digital marketing firm Nottingham provides a high level of ingenuity from our team of creatives. We follow a unique approach to building a digital marketing strategy to set your brand above the competition. We will be highlighting your strengths, services, and products so that you stand out in the market—letting the whole world know you're here to stay.

Our digital marketing pros are dedicated and earnest in our work. We've stayed in this industry for several years because we have first-hand knowledge of how it is to be a client. We know that you seek the best service from us and open communication lines at all times. With us on your digital marketing team, you have a partner every step of the way.
Knack for problem-solving
Our digital marketing team secures your growth by curating strategies that bring maximum return on investment (ROI). We understand that to set up a better future for your brand, we have to solidify your digital marketing campaign today. We bring this goal to life by tailoring the best solutions fit for your identity and philosophy.

We value integrity and honesty in our line of work because we desire to be the online marketing agency Nottingham that everyone trusts. We always uphold transparency in our transactions by bringing you up-to-date regarding your campaign. We are available to talk to at any convenient time you want to discuss concerns or suggestions.

Digital marketing services Nottingham can cost a significant amount when managed poorly. We are budget-conscious digital marketers—we know that you are investing to see positive results, so we cannot spend your money carelessly. We are not into overspending or upselling but instead provide your brand the services it needs via a custom-made campaign.

As critical thinkers, our team knows that issues should be dealt with before they become a bleeding gap that ruins your campaign. We take care of the mess before it even happens because we need your digital marketing journey to be as smooth and hassle-free as possible. With us by your side, your problems and worries are so yesterday.

Search Engine Optimisation
SEO in digital marketing is indispensable, and there's no question whether your business needs it. Seek Social provides the most strategic optimization campaign that drives organic traffic to your brand's website and credibility.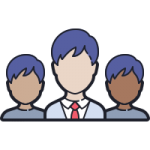 For fast, short-term outcomes that boost your numbers, having a pay-per-click (PPC) strategy is important. It boosts site traffic instantly and enables faster lead generation. With PPC and SEO strategies together, your success is underway.

Our Internet marketing agency Nottingham has a great pool of graphic designers who bring creativity and ingenuity to the table. We know how to capture your identity in aesthetics, curating some of the most compelling ads and content.

Successful branding entails precision and detailed designs. Our work includes handling all the elements of your strategy and making sure that branding is cohesive. Our experts will help you to forge an impressive brand identity like no other.

Social media is an excellent virtual platform to find potential clients. There's a lot of benefits to be had in the online world, and Seek Social is here to ensure that you reap the benefits. We provide social media service to create campaigns that bring you to the spotlight and buzz.

Your website is your company's online shopfront and it is the first place that convinces visitors to convert to customers. Our digital marketing company Nottingham helps you to create a user-friendly site that allows your audience to get up close and personal about your brand.
Our Digital Marketing Strategies for Your Business Growth
The key to achieving positive ROI and growth is the harmony of different strategies. Our digital marketing package includes a wide range of activities that command success, and here are some of them.
Page Optimisation
– Meta Tag Optimisation
– Page Speed Enhancement
– Image Optimisation
– Anchor Text Optimisation

Brand Awareness
– Social Media Promotion
– Content Development
– Informative Videos
– Robust Ad Campaign
Technical SEO
– Crawl Analysis
– Content Indexing
– Mobile Optimisation
Google Ads Management
– A/B Testing
– Landing Page Optimisation
– Bid Management
– Google Shopping Ads
– Remarketing Ads
– Google Shopping Ads
– Dynamic Ads
– Paid Social
Mobile Search Enhancement
– Schema Markup
– Site Responsiveness
– Image Compression
Local SEO
– Google My Business
– Citation Building
– Local Listing
Competitor Analysis
– Keyword Research
– Ranking Analysis
– Shared Content Research
– New Links Tracking
Content Development
– Credibility and Authority Building
– Conforming User Intent
– Quality Content Creation
Seek Social: Leading Your Best Digital Marketing Journey
Our digital marketing agency in Nottingham is recognised as one of the leading marketers not only in this city but the rest of the UK. We know how to transform your brand digitally so that each strength is highlighted and introduced in an eye-catching way.
Whether it's a specific digital marketing solution you need, or a full suite of services to boost your marketing efforts, we're ready to lend our expertise to you.
Get Satisfying Results with Our Digital Agency
Achieving your targets is our way of demonstrating how capable we are as a digital marketing firm. Therefore, there are no holds barred when it comes to curating leading campaigns for brands of all niches and sizes. We will work with you intimately and be here every step of the process to keep track of our goals.
With Seek Social, your digital marketing pathway is designed to deliver positive growth and achieve the brand recognition that you deserve.
Digital marketing services we offer across Nottingham
Paula and her team are so lovely and really helped me develop my website in a way that I could never have done myself. Seek Social managed to turn my vision for my website into a reality and ensured functionality and brand aesthetics were the top priority. I have loved working with Paula and Dean and I would recommend using their expertise.

Paula and her team have been wonderful right from the start. They persevered with me after a few long conversations before I could determine that they were the right fit for me and my business. Communication is great and I'm getting the results that I wanted. Highly recommended.

Paula and the rest of the SeekSocial team helped me create a website for my own freelancing business. In my interactions with Paula she has always been the epitome of great customer service: kind and funny, perceptive and professional. She has turned my own somewhat confused ideas into the perfect logo and brand. As I put it to her at the time: she managed to hear the things I didn't know I wanted in what I said and then gave them to me. Interacting with Paula has been both a pleasure and an inspiration. May it be so for very many other people to come

Paula and the rest of the SeekSocial team helped me create a website for my Transatlantic rowing challenge. From my first contact with the SeekSocial team through John, to the fine tuning of the website with Dean they have been awesome. They are the definition of great customer service: attentive, funny, pro active and total professionalism. They are a brilliant agency to work with and have produced a fantastic website for myself. I would highly recommend them to anyone looking to build an online platform.

I've personally hired Seek Social and found them phenomenal. Their graphic design team is exceptional and Paula is untouchable. She's so thorough, detailed, patient, and creative. I would not hesitate in working with this amazing group of people from the U.K. in the future! To the entire Seek Social Family. Thank you, so very much for the work you put in.