16 December 2021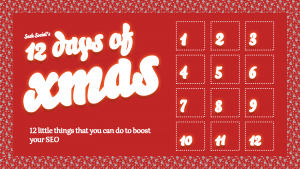 Your 12 Days of Xmas SEO Healthcheck, With A Top Digital Agency!
2020 was a rough ride for everyone, and 2021 hasn't been much better – especially if you own a business. Christmas is almost upon us once again though, and with the festive season comes the chance for a fresh start in 2022. With that in mind, the team here at Seek Social – Manchester's top digital agency – have put together this handy guide designed to help you get your business website in a great place before business starts up again in January.
Perhaps unsurprisingly, we're referring to this guide as 'the 12 Days of Xmas', since it comprises twelve different things that – as our top digital agency knows only too well – you really ought to get on top of if you want your business site to perform at it's best. However, Manchester's top digital agency don't want to keep you chained to your keyboard throughout the festive period… Christmas is a time for family, fun and relaxation after all.
As a result we've tried to make each item on our list something that can be done quickly and easily, or something that can be picked up and put down with the minimum of fuss, or the chance of 'losing the thread' of where you were up to. Now, in the spirit of the season we recommend that you go and grab yourself some hot cocoa and a cookie or two, as we step into the twelve days of Xmas with a top digital agency!
Day 1: Google Analytics & Google Search Console Set-Up
We start out with something that isn't really an SEO task, but that is essential to performing good SEO. Manchester's top digital agency are firm believers in the importance of measuring and analysing the results produced by any SEO work we do – but you can't do that analysis without setting up Google Analytics and Google Search Console – so this top digital agency sees that as the first job on our list.
Manchester's top digital agency put together an in-depth guide to Google Analytics last year that will walk you through the entire setup process from start to finish, and tell you way more than we have space for today – so check out part one of that guide to get through the setup process (we'll get back to parts 2 and 3 later in our list 😉).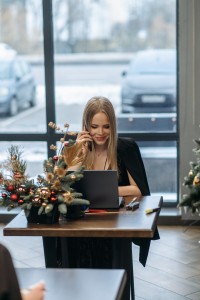 Once you get to that point, take yourself a well-earned break – but when you get back from that break we continue laying the groundwork for success by setting up Google Search Console. Keeping Google up to speed with new developments and new content on your site plays a big role in your SEO success, and the way you do that is by requesting Google re-analyse your site. As any top digital agency should know – the quickest and easiest way to do that is via the 'Sitemaps' tab in Google Search Console.
Once we finished the three-part Google Analytics guide mentioned above, we moved straight on to Google Search Console – so again our top digital agency already has a great three-part guide that will show you how to do everything you need here. Part one of that guide is the one you'll need here, but as above we will be returning to parts 2 and 3 later on in our list!
Day 2: Keyword Check
'Keywords' are what make search engines work. They are the key element that search engines use to determine what page goes where in the rankings. As a result, you need to know 'good' keywords from 'bad' ones, as well as what words and terms are being used most often on your webpages.
Finding and using good keywords is a job for SEO pros like the team you'll find at our top digital agency, but – especially if you've outsourced your content writing or you're not happy with your SEO results thus far – this simple keyword check is a great way to find out if the content you have is capable of doing the job you want it to do… If it's working with or working against your wider SEO strategy. All you have to do is find yourself a text analysis tool (there are plenty of free web-based ones out there that will do the job just fine), paste in a page's content and just see which words and combinations come out on top.
If the page has already been optimised then you should see its keyword as one of the top results, if not then you're looking for words and terms that are at least related to what the main focus of the page is supposed to be. These could be good keywords to use too, but it's best to consult a top digital agency like ourselves to know for sure. In any case, if the results you get back have nothing to do with the main focus of the page, then you know that you have a problem and that your content is holding you back.
Day 3: Paragraph Check
Human beings have short attention spans. We don't like to get dragged unexpectedly into big tasks that will take a long time to complete. This is partly why the team at Manchester's top digital agency have broken this list down as we have, and it's the reason why people are put off reading something when they see 'the dreaded textwall' online.
Because of this, you can gain an SEO bonus if you use shorter paragraphs of around 100 words. This breaks your text up and provides lots of handy stopping points where readers can put the text down for now and pick it back up later. Not only is this preferable for readers, but Manchester's top digital agency knows that a text that's presented in 'bite size' chunks like this is more likely to be read and provide value to it's visitors – and now so do you.
Google knows this too – and because Google knows that people are more likely to stay, and read, and find such pages useful, it grants them a bonus in the rankings. You can get this bonus for your pages too – but only if you keep your paragraphs short.
Day 4: Add Images & Alt Texts
In addition to keeping the length of your paragraphs in check, the staff at Manchester's top digital agency also know that you should also be adding images to your pages. Again though, we aren't the only people who know this – the search engines have also noticed a trend where human users tend to stay on pages with good quantities of both text and images.
Our top digital agency therefore knows that because of this 'preference', search engines grant an SEO bonus to pages that strike a good balance between text and images. Likewise, we also know that if you aren't trying to achieve that balance, you're missing out on an opportunity to improve your SEO.
So, the advice from our top digital agency is to take some time and make sure that every page on your site includes at least one image, and that it's well positioned and fits in with the overall layout of the page. Beware adding images to pages in a slapdash fashion however, since this is likely to do more harm than good from an SEO standpoint.
One of the reasons for this is that those hurriedly-uploaded images may well be missing 'alt texts'. An 'alt text' is a piece of text used by things like screen readers to verbally describe an image to a visually impaired visitor – and there are two main things to bear in mind when it comes to alt texts and SEO.
Firstly, page accessibility is a factor that the search engines take into account when ranking a page. The presence of an alt text makes your page accessible to visually impaired audiences, so you will get an SEO boost by adding them.
Secondly, If you can include your keyword in your alt text for an image then again there's an SEO bonus on offer, as for a search engine this only reinforces the idea that your page's content is built around a single, well defined topic.
So, 'get your keyword into your alt texts' then, right? Well….. yes and no. Any top digital agency should tell you that using alt texts that don't accurately represent the image they're attached to – just to gain that SEO bonus – is highly unethical. Providing a truthful description of the image is the very purpose of an alt text after all. The rule we use at Manchester's top digital agency when it comes to alt texts – and the one that we'd recommend to you – is quite simply 'say what you see'. If you do that then you can't go wrong – and if you can find a way of expressing what you see that also includes your keyword, then so much the better!
Day 5: SEO Titles
As Manchester's top digital agency can tell you – if you've ever used a search engine, you've seen an SEO title before, even if you didn't know it. You know those big blue links that you click to go to a page after you run a search? That big blue link is an SEO title, and like many of the various elements of a webpage, it can be optimised.
How much they can be optimised and how it needs to be done will depend on a number of factors and variables. There are lots of these in play when optimising an SEO title, and it's the first thing that users will see when your page is returned in their results – so we'd advocate putting SEO title optimisation work in the hands of a top digital agency like Seek Social.
Nevertheless, there is one key thing you can do to evaluate the quality of the SEO titles you have right now, and that's to see if they include your keyword. If they do, then it's great news – if they don't however, your SEO titles are not going to be helping your ranking at all, and you're missing out on another part of your website that could be earning you a nice SEO bonus if done correctly.
Day 6: Meta Descriptions
At their core, Manchester's top digital agency would describe meta descriptions as a longer-form variant of an SEO title. However, instead of announcing and introducing your page – which is usually done with the SEO title – with the meta description you're describing what visitors can expect to find should they click your link, and trying to persuade them to do so.
As mentioned in the previous task, because the meta description is one of the first things a prospective visitor will see in relation to your site, again we'd say that this is work best left in the hands of professionals like the team at our top digital agency. However, once again there is a quick test that you can perform to see if your meta descriptions are helping your SEO score, and once again in that test you're looking for your page's keyword.
If a page's keyword is present in it's meta description then – while an expert from our top digital agency might still be able to make an improvement – the meta description is making a solid contribution to that page's ranking. If it isn't present then you're missing an opportunity for optimisation, and you should look to remedy that as soon as possible.
Day 7: On-site Internal & External Links
Before we get started on this one, a bit of terminology for you:
'On-site links' are links that are present somewhere on your site.
'Internal links' are links on a page that lead to another page within the same web domain – links that go from one page on your site directly to another page on your site.
'External links' are links on a page that lead to a page on another web domain – links that go from a page on your site to a page on another site.
If a page doesn't contain any links then the team at this top digital agency know that you're missing out – not only when it comes to SEO but also on an opportunity to send people to the parts of your site where you want them to be, to extra great resources that they might find useful (which might also help your ranking), or to some other related place on the web – for example, your social media pages.
Links are such a powerful tool for SEO that again, it's best to have experts from a top digital agency handle the fine details of 'what links to where', so you can get the best results on the pages that really matter, while avoiding the pitfalls of linking out to so-called 'toxic' sites. Yet again though, your task for today is to check the current state of things – go through your pages and just see if they each have at least one internal link on them, and one external link. If they do then that's great – your site is likely pulling its weight in this area. if not however, then that's another area that you (or a top digital agency like Seek Social) need to address as soon as possible.
Day 8: Supporting Content
Even if you create a great-looking, well laid-out page with great content and you optimise it well – and you have the help of a top digital agency like Seek Social – you still can't expect that one page to do everything on its own. The so called 'money pages' on your site (the ones where people can convert in some way – be it a signup, a purchase, or some other meaningful outcome for your business) should have support texts backing them up. These are your 'extra bullets in the gun' as it were, that will channel people to your money page even if they searched for a slightly different keyword or topic, and also boost the 'authority' of that money page, which will help it rank well.
Exactly what links to where should be discussed and agreed upon with your digital marketing partner, to ensure that the marketing funnels these texts create are well defined and do indeed lead to a trackable conversion action (and our top digital agency will remind you – your partner should be monitoring conversions via an analytics suite). As a result that part's probably best left until after the Christmas period – but you can certainly start gathering ideas for support texts now.
To get the ball rolling, have a look at your money pages. Are there any related subtopics or offshoots to what you've talked about there that you can expand on? Anything that you wanted to mention but didn't have room for? Are there any different ways that you could phrase your keyword? If the answer to any of this is 'yes', then you have a solid candidate for a support page right there!
Day 9: Off-site Backlinks
A 'backlink' is a link on another site that leads to a page on your site. As a result it might seem like they can't really help your SEO, but this top digital agency knows that this is definitely not the case! Like the other links that we've spoken about above, backlinks are indeed a powerful SEO tool – not least because they a key factor in determining your 'Page Authority' (or 'PA') and 'Domain Authority' (or 'DA'). As Manchester's top digital agency can tell you – increasing your PA and DA will improve your ranking, so it's something that you definitely should be one of your goals – but how do you go about accomplishing it?
The simple answer to this is 'by creating backlinks' – so, how do you create backlinks? Well, here at Seek Social we use two main methods:
Directory Backlinking:
Adding your business' details to various online business directories which include a link to your site. Since this link will lead TO your website, but it isn't ON your website, it counts as a backlink for you.
Web 2.0 Backlinking:
This requires the use of support texts, as covered above. Just as you can place support texts on your site to guide or funnel traffic to where you want them to go, you can also post them on other sites, blogging platforms, and so on. Any link added to these support texts will again be a link TO your website, that isn't ON your website – and as such, will count as a backlink for you.
Again, when it comes to the actual work of adding backlinks, that's probably best left to a top digital agency like us. Just as with day 7 above, 'toxic' backlinks are a risk again here – so this needs to be done correctly or you can end up doing more harm than good. However, you can certainly have a look and see how you're doing in this regard without any risk. Search for pages on your site and see if they are found on any third-party sites in the results. If they are, then great – but if you can't find any then your site might need some help from experts like Seek Social, to create quality backlinks and build your authority.
Day 10: Local SEO
Everything that Manchester's top digital agency have talked about so far has been aimed at 'Global SEO' – getting to the top of the 'standard' Google rankings. However, Google also has 'Local' rankings that it will use when you specify that you're looking for results from a given area, or 'near me'. These rankings can be really useful to you since they reduce the amount of competition you face – instead of needing to be 'the best in the world' to rank #1, you only need to be 'the best in Manchester', for example.
How these local rankings work is again based around keywords – so you will need new keywords including 'geolocation'. Geolocation is 'a mention of a specific place', be it an area, a town, city, country etc. Now, because local SEO calls for new keywords, and pages and content that's been optimised for those local SEO keywords, we'd recommend leaving that to your digital marketing partner. However, what you can do in the meantime is think about the places that matter to you as a business, and develop a list of potential local listings to target. Ask yourself if there's anywhere specific where you have a lot of customers, or where you want to have more customers? Which towns and cities are in your operating area? What divisions between places and what different names do people use for given areas?
Day 11: Social Media
Our top digital agency knows that another weapon in your SEO arsenal is Social Media, which works more from an awareness point of view than anything else. Anytime you have a new blog post out, a product offer, or basically anything that you want to promote via your website, you should be posting about it on Social Media too, and including a link to it in your post.
Unfortunately on social media these links are usually 'no follow' backlinks which means they won't help your PA and DA like the backlinks discussed earlier – but that doesn't mean that the search engines aren't looking at what's happening on social media and factoring it into their rankings – again, as a top digital agency, we know that indeed they are. The more likes, comments and clicks you can get the more you'll help your SEO, as well as your social media presence. The returns for SEO maybe aren't as great as the other tasks on this list, but every little helps – and if you aren't doing this then again you're missing out.
Day 12: Understanding Your Analytics
Way back at the start of this process – almost two weeks ago now – our top digital agency helped you set up Google Analytics and Google Search Console. Since then, these platforms will have been gathering data on a number of metrics, and this data can give you some really invaluable insights if you know what you're looking at.
We also mentioned the two three-part series we wrote on Analytics and Google Search Console, and we mentioned that we'd be coming back to them. Now is the time to do that. Part two of both the Google Search Console and Google Analytics series from Manchester's top digital agency included an explainer of all of the most important metrics used by each platform, so your task for today is to read both of those – ideally with GA and GSC open so you can get to grips with the various charts and graphs that are presented alongside the raw numbers.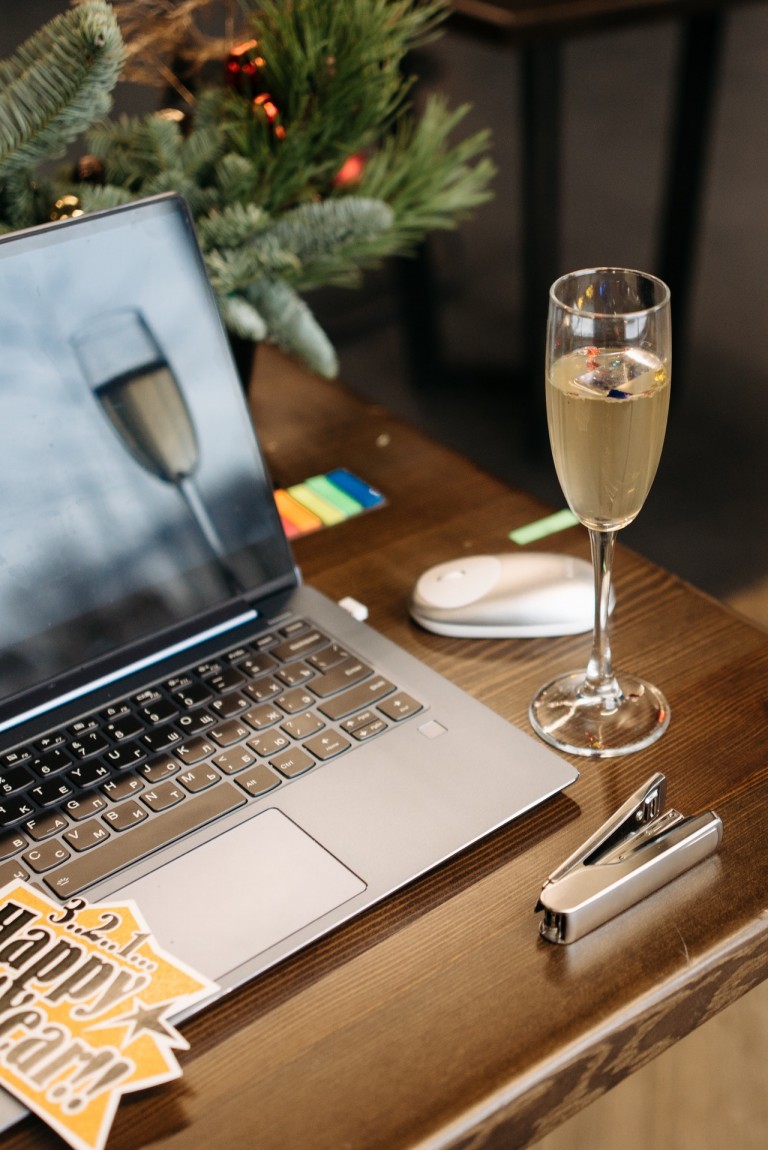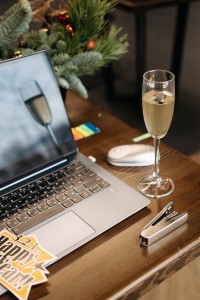 Those two blogs should take the mystery out of all of that data and put you in a position where you know what each metric means – essentially 'what is being recorded' – and you're starting to understand what all of that means in the real world. Certainly it should also make both platforms a lot less intimidating too. However, if there's anything that you're struggling to get your head around, then in the new year, why not reach out to Manchester's top digital agency for some support. After all, it's our job to understand these numbers and know how to affect them – so who better to help you out than the Seek Social team?
The Last Word from Manchester's top Digital Agency:
We really hope the tips we've given above help you understand how your site's performing from an SEO standpoint and we hope that you get favourable results. However, if you don't all is not lost – it just means that in the new year it's time to call on the team at Manchester's top digital agency, Seek Social. And finally, since this will be our last blog of the year, we would of course want to wish all of our staff, our awesome clients, and anyone that's reading this blog over the holidays a Merry Christmas and a Happy New Year – and we'll see you in 2022!
---