Why You Need Digital Marketing for Your Small Business
One of the first and biggest problems faced by every small business is getting customers to buy their products. It won't matter if they have the best products or services on the market — with poor marketing, the brand will never reach its target customers. While traditional advertising strategies such as print ads, infomercials, and billboards successfully introduced customers to products, small businesses should consider taking the more effective and efficient route of digital marketing, and enlisting professional digital marketing help.
Studies show that about 87% of buyers use the Internet to search for products. Eighty-seven percent is massive, considering the market size. This is all the more reason to focus your marketing strategies on virtual platforms such as social media, email marketing, search engine optimization (SEO), and so on.
Here are eight reasons why professional digital marketing is beneficial to small businesses:
Reason 1: It Works Where Your Customers Are
In 2019, there were 3.5 billion active social media users each day — that's almost 45% of the entire world's population. Every day, this number increases. It is even estimated that for every second, 11 users are using social media for the first time. In 2020, more than 3.8 billion people are using social media across the globe.
The fact is, your customers are online. Right now, millions of potential customers are scrolling through their Instagram feed, watching videos on YouTube, and playing games online. Small business owners need to capture their customers in their usual "habitat", which is why it is crucial to establish an online presence, whoever their target market may be. Professional digital marketing support is what's needed to really access and market to these audiences effectively.
Reason 2: Digital Marketing Retains Customers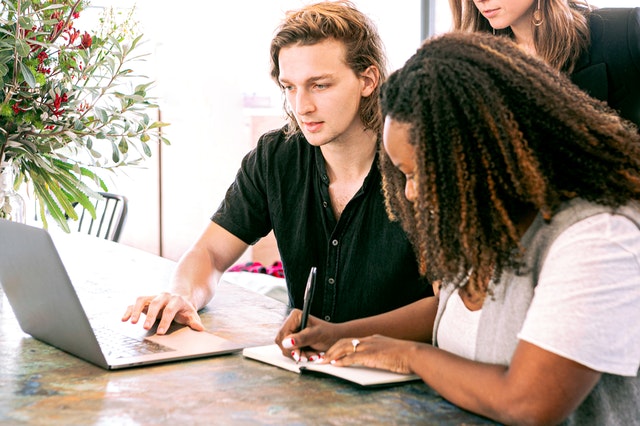 More than 500,000 businesses are born each month. This makes it extremely easy to lose customers to competitors. However, professional digital marketing support is an effective tool that helps establish lasting relationships with customers. With professional digital marketing support, the experience does not end the moment the customer walks out the door. Instead, it is extended, transferred over to online platforms like social media and branded websites. Professional digital marketing support can help ensure that a customer has a positive experience in these venues, in turn becoming loyal to the brand, and eventually, becoming ambassadors who will recommend the products to their friends and family.
Aw our professional digital marketing agency can tell you, a few tried-and-tested techniques for maintaining loyal customers include:
Personalized "thank you" emails for every purchase
Remarketing and retargeting, which means persuading them to try other products that they would most likely enjoy
Featuring positive reviews from customers
Reason 3: Insights into Customer Needs
Another challenge faced by small businesses is converting leads. The most innovative product won't generate sales unless it addresses the buyers' needs. Digital marketing gives small businesses insights into what their ideal customer is looking for, as well as their online habits. Small businesses shouldn't play a guessing game when it comes to identifying customer demands. Valuable tools like Google Analytics, SurveyMonkey, SEMRush, etc. are at every company's disposal, regardless of how many years they've been in business.
What are customers searching for online? What are their lifestyles? And most importantly, what can the business offer them? Before launching product after product, or service after service, it is ideal to get to know your customers so that no effort goes to waste.
Reason 4: It's Where Your Competitors Are
Every small business feels a certain degree of intimidation for their competitors. The good news is that with professional digital marketing support on your side, you can stay one step ahead of that competition. You see, your competitors aren't just individuals that you need to beat… If they're beating you, then they're also great examples of what you should be doing with your digital marketing strategies.
A professional digital marketing team like ours knows that you should pay attention to what your competitors are doing. Big-name companies most likely owe their success to a team of professional digital marketing experts. In the early stages of your business, it's unlikely that you will be able to afford a specialized professional digital marketing team, which means that you need to learn and apply everything you can independently.
What content are your competitors creating? What social media platforms are they on? Are they using videos, images, or both? How often do they engage with their customers?
By asking these questions, you will be doing exactly what a professional digital marketing team does, and you'll be able to mirror your digital marketing campaigns against theirs. The best scenario would be drawing your competitor's customers to your brand.
Reason 5: Professional Digital Marketing Helps you be Seen
The average consumer will first consult the Internet before they make a purchase, whether it's to compare prices, read reviews, or to learn more about the product. If you have zero online presence, your customers won't be able to find you. Even if you have an online presence, if your competition shows up first on the search engine results page, your customers will click their link and forget all about you because they've found what they want.
It's important to learn the basics of Search Engine Optimization (SEO) to stay ahead of the competition. It is one way to ensure that your brand appears first whenever your target customer performs a Google search using specific keywords. You can establish your online presence by creating a website that is filled with SEO-friendly content that your customers would find useful, such as how-to videos, informative articles, etc. This allows your brand to be discoverable online.
Reason 6: Accessibility for Customers
Customers appreciate brands that are there for their customers. Professional digital marketing support allows your business to be available well beyond closing time. If your customers have inquiries in the middle of the night, they can conveniently visit your website's FAQ section instead of waiting until 8 o'clock the following morning.
Not all customers have the time to shop during the day. By establishing a digital presence, customers can browse your catalogue and make purchases online, anytime day or night. Professional digital marketing support means that potential customers who can't physically visit your store, whether they're limited by their schedule, location, disability, etc., can still become loyal customers. E-commerce brands can even gain loyal customers from across the globe if they offer international shipping.
Reason 7: Professional Digital Marketing is Affordable
Traditional advertising techniques such as television, billboard ads, and radio are expensive. The cost of a thirty-second commercial ranges from $200 to $1,500 per airing. This makes digital marketing significantly more affordable and accessible to small businesses.
Digital marketers earn $2 for every dollar spent on pay-per-click campaigns, a digital marketing strategy that has been proven to increase traffic and conversions. Also, small businesses can take advantage of one of the most powerful (and free!) tools out there: social media. If your brand isn't ready to invest in Google Ads, Facebook Ads, etc., you can always make use of free tools to reach more customers.
Reason 8: Better Analytics
Digital marketing lets you see how well a campaign is doing in real-time. Compared to traditional advertising methods, where you would have to cross your fingers and hope that customers respond positively to your strategies, digital marketing allows you to track your campaigns as they are being conducted.
Business owners (or their professional digital marketing support team) can see every detail, from the number of users who visited the website, to the amount of time they spent on a page. These real-time analytics make it easy for marketers to adjust their marketing techniques as necessary, to make them more effective.
Reason 9: The Possibilities are Endless
Investing in professional digital marketing support is an effective strategy that can put the spotlight on your brand. Small businesses can capitalize on its affordability and accessibility, with its return on investment being much higher than traditional forms of advertising. Even if you have a limited marketing budget, the opportunities offered by digital marketing are endless.
It's time to hop on the digital marketing train. Take the first small steps such as creating social media accounts, developing a website, learning about Google Analytics, and more. You will soon experience the impact that digital marketing has on your business.
BACK TO BLOG