A Graphic Design Agency's Top Four Design Trends for 2021
With the first few weeks of 2021 under our belts – along with some great projects, briefs and client requests too – the time has come for Seek Social to switch focus from SEO and marketing, and look at things from the perspective of a quality graphic design agency, taking in some of the trends that we've noticed emerging over the first quarter of the year.
You see, graphic design is another service that any business looking to find success online will need. It's one that our multi-talented team can offer too, but as with so many other things in the world of digital marketing and online business (SEO, Social media posting, PPC ads for example), it needs to be done correctly to be effective.
As a leading graphic design agency in Greater Manchester, we know that part of 'doing things correctly' involves knowing what the current trends in graphic design are, so that you can use them in the projects you're working on. Not only does it prevent those images that you're working so hard on (and that clients are paying you for) looking dated the instant they go live, but it also allows you to tap into the expectations of your audience, and possibly earn more engagement with your images too.
So, without further ado then, here are the top four design trends for 2021, from the point of view of Manchester's top graphic design agency, Seek Social!
Trend 1: Chaos
Seek Social – again, Manchester's top graphic design agency – are definitely seeing a trend away from clean, simple, minimalist design towards more cluttered, chaotic design featuring multiple elements. Perhaps this is a case of art imitating life to an extent, as everybody has had their daily life thrown into some level of turmoil during the pandemic. Nothing's quite as 'planned' or 'set in stone' as it used to be, and now your website, social media images and promotional material can evoke that too.
What do Manchester's best graphic design agency mean when we say 'chaos' though? Well, some concrete examples would be 'busy' flat-lay photography layouts featuring multiple items placed hap-hazardly to create an eclectic 'mashup' look… Interestingly, in-text photography looks set to be big this year too – and In the opinion of this combined social media and graphic design agency this is almost certainly taking inspiration from the recent trend of social posts incorporating multiple emojis to tell their story.
Lastly, we can note that even fonts are getting in on the act… Serifs and cursive fonts are definitely 'in' this year, and even the use of more than one font within a passage of text or a word might be something to consider depending on your project.
In addition to being a top graphic design agency in the area though, we're also the best choice for web design and SEO, and so we must add a caveat to what we've said above. While the trend towards clutter is something we can get behind as a graphic design agency, when we put our web design and SEO hats on we must also advise caution. Clutter and mess are fine for the graphical elements and visual appearance of your website, but you can't let them extend to things like your website's structure, menu layouts, even down to how you format your social media posts.
These MUST remain clear and concise, lest you risk making it hard for your audience to find or access what they're looking for. This leads to poor user experience, and can have a detrimental ranking on your SEO ranking, overall website traffic, and more.
Trend 2: Retro-Futurism
This is a trend that's been around for a few years now (in fact, does it ever really go away?), but retro-futurism – mimicking the art of how the past envisaged the present day when it was still 'the future' – is definitely still in vogue. Now, we're gamers at heart, so when Manchester's best graphic design agency think of examples of retro-futurism our minds instantly go to the 'Fallout' games, as well as TV shows like 'The Jetsons'. Heck, even 'Back To The Future' qualifies these days – after all, we aren't eating rehydrated pizza, and we don't have hoverboards or a printer in the bathroom.
Retro-futurism looks great when it's done right, but as a quality graphic design agency Seek Social also know that it has its perils too. For one, you need to be able to show that your design is retro-futurism. If your project involves marketing something really cutting-edge then of course then this could be evident from your product alone, but if not then you need to have an evident mix of old and new in some way. One way a graphic design agency might do this is through the techniques used to create your design. For instance, modern high resolution images and software allow us to create a logo that feels very '50's' – but with a much cleaner, crisper, more consistent look, and more detail than would have been possible 70 years ago.
Again though, when the staff at our graphic design agency take their artists' hats off and look at things from the point of view of a web designer, we see reason to be careful. In this case because there's a fine line between 'retro cool' and 'just old'. Especially now, when the beginnings of the internet era are beginning to enter that 'retro cool' zone, care must be taken with retro-futurist designs to make sure that your graphic design agency is hitting that 'cool' aspect, and not just making your brand look old-hat.
Another thing to bear in mind in particular with retro-futurist design is whether or not you're going to 'age' the final product. 'Artificial wear' (such as frayed edges, faded colours, or even rust) can be great to incorporate into your design and add to the overall look. However, it needs to be done right – because when badly executed, such effects can look really hokey and actually take away more than they bring. If your graphic design agency can show that they have the skills to pull this aging process off, then great – but if not, don't let a desire to incorporate it literally take the shine off of a 'cleaner' design that could be used to great effect.
Trend 3: Big + Bold
We mentioned earlier how our graphic design agency had noticed a very definite trend towards the big, bold, and busy – and that even fonts were included in this trend. The combination of these individual elements has led to the resurgence of 'oversize' lettering – that is, lettering that initially appears to be part of a background design, until you're able to make out other letters alongside it or you've seen the design as a whole. This effect can really be quite subtle until you spot it, and create some abstract shapes and designs that look great both in print and on screen.
In a similar vein, the staff at this graphic design agency have noticed quite a lot of geometric shapes in use in recent designs. Again though it can be quite subtle, and only when you take a step back or look at a background in isolation do you see 'oh, it's just a blue field with some triangles and circles on it'. When looking at the image as a whole you might see that the triangles live behind some text, and the circles are being used to frame some products or headshots – adding more complexity to the image.
Trend 4:All About Colours
A lot of what we've talked about thus far lends itself to making strong statements through design – lots of things to look at, many elements, shapes …of all shapes and sizes (for want of a better term) – and big fonts to top all of that off.
Thankfully, the one place where Manchester's top graphic design agency have seen this 'go big or go home' trend eschewed, is in the colours used with these designs. While at first highly-saturated colours like a hot pink or lime green might seem to fit the trend, in practice you realise that when everything else is making such a loud statement in your design, that adding a 'statement' colour on top of that becomes too much to take in all at once.
When you're using a lot of it (as well you might be if you're adhering to the trends we've identified above) then a more muted hue become more visible in your design – and again this is something that Manchester's best graphic design agency have noticed in the first few weeks of 2021. Pastel shades and other less saturated colours are definitely en vogue right now, as is anything that can evoke nature.
This obviously is going to point you towards muted greens, blues and yellows, but don't discount the other shades that could be connected to both your brand and nature, but might not work for your competition. As this graphic design agency knows – such colours could well make your material stand out from the crowd and draw eyes too you, and who doesn't want that for their business?
We're going to round things off today by talking about the one place where we have seen big, bold, colours in use – and its something that the staff at our graphic design agency can't remember being used (at least on the scale it seems to be now) since the mid-to-late 90's, if not earlier. We're talking about disharmonious colour combinations – combinations of hues that you wouldn't usually see together, and that perhaps don't naturally stand out against each other – red and green, yellow and sky blue, orange and pink, and so on.
Manchester's top graphic design agency would advise caution with this one however – since make no mistake – by employing this technique you're breaking some pretty big rules of design. The benefit of this is that because you're breaking the rules, if you can pull it off you're more likely to end up with something striking, that stands out from your competition. The drawback being that – again because you're breaking the rules – the greater the risk that design will be off-putting to some people, or that your idea simply won't translate from your head to the drawing board.
And lastly for this section we have to stop being a graphic design agency, and once more return to being web designers and SEO professionals. While this use of odd colour combinations works well for larger designs, backgrounds and so on – our advice is to avoid using it too much. For instance, don't apply such a colour scheme to your site as a whole… Have you ever tried reading bright orange text on a bright blue background, or bright green on red? We have, and it is not an enjoyable thing to do.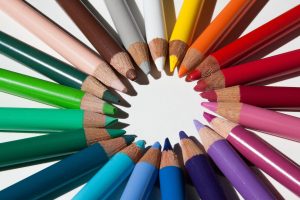 Therefore, when looking at things from the point of view of a web designer or SEO professional rather than a graphic designer, our advice is to avoid inflicting that experience on your visitors. Why? Because it's a user experience issue. As cool and as cutting edge as your page might look, if it offers a bad user experience – such as people not being able to read your body text clearly – those users will click away and look elsewhere. And if they start to do that, it will have a detrimental knock-on effect for your Google ranking and your wider SEO strategy. By all means use this technique in your graphical elements and where you might be using oversize fonts, but keep the contrast between your 'regular' text elements and their backgrounds high.
The Final Word From Our Graphic Design Agency…
Well, there you have it folks – our thoughts on some of the graphic design trends that we've noticed emerging at the start of 2021. Hopefully the input that our graphic design agency has provided above will give you some inspiration and ideas for your next batch of graphic design work – but as always if you'd like some help that's more tailored to your business' individual needs then by all means get in touch with us today. Reach out over Facebook, Instagram, or by using any of the details that you'll find on our 'contact us' page, and we'll be more than happy to share our expertise with you!
BACK TO BLOG